Environmental Education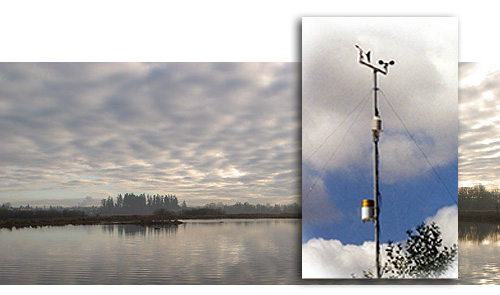 Jackson Bottom Wetlands Preserve, Oregon
Jackson Bottom Wetlands Preserve (JBWP) makes up 710 acres of the 3000-acre Jackson Bottom floodplain of the Tualatin River. Located within the city limits of Hillsboro, Oregon, JBWP has the mission "to connect water, wildlife, and people." The organization is a nonprofit that offers a wide range of programs for children, families, adults and educators.
In developing their new Wetland Education Center, JBWP purchased a Capricorn 2000 weather station with a grant from Intel Corporation. The weather station is a component of the wetlands environmental monitoring system which includes two water quality monitoring stations and a remote camera system for viewing wildlife.
The wetlands monitoring system supports environmental education for students from elementary through graduate school, as well as developing a historical database for climatological research. The weather station provides a means for understanding how the microclimate at the Preserve differs from the nearby Hillsboro airport and other locations. Data are also available for agency and public use.
Visitors interact with a custom touch-screen exhibit which uses Weather View 32 software to maintain and display the weather data. In addition to the exhibit, weather data and other information can be viewed on JBWP's web site www.jacksonbottom.org.
For more information click: