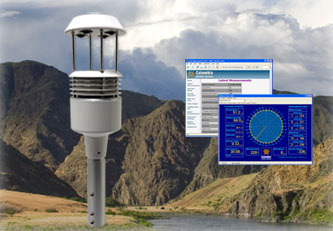 All-in-One Sensor Module
Sonic Wind Speed and Direction
Temperature
Relative Humidity
Barometric Pressure
Internal Fluxgate Compass
Features
Weather Protected Weather Protected Multi-Sensor Design
All-in-One Measurement of Temperature, Relative Humidity, Wind Speed, Wind Direction, Barometric Pressure
Integrated Sonic Wind Sensor
Automatic Self-Alignment Using Internal Flux-Gate Compass
Rugged, Reliable, Quick Deploy/Install
Low power consumption - ideal for battery or solar-powered installations
All Metal Construction
No Mechanical Components
Wireless transceivers provide remote capability (two-mile range)
Tripod sensor mast makes set up simple while "quick-connect" sensor head allows system to be instantly operational
Sealed battery system with charger for continuous monitoring
Rugged transportation cases for instruments and tripod
Automatic interface with Cameo/Aloha Software
One-year Warranty
Call for a quote toll free 1-866-625-8620 or email
Standard Magellan Portable Weather Station Includes
Wheeled carrying case houses batteries and and wireless transceiver with quick-connect sensor plug-in jacks
Magellan sensor head with 15-feet of cable, includes:

Radiation shield with temperature, relative humidity, barometric pressure
Sonic wind speed and direction sensors
Internal fluxgate compass

Two 2.4 GHz wireless transceivers - 2 mile range
32-hour, 12 volt, Sealed Gel Battery System (Other battery capacities are available upon request.)
10ft tripod with telescoping mast, tiedown kit, compass, and mounting hardware
Heavy-duty canvas tripod transportation bag with tote straps
System Components:
Tripod Sensor Mast:
Made of powder coated heavy-gauge steel for added protection against the elements. The mast has three removable legs with locking pins. Telescoping extension elevates to 10 feet overall maximum height. Includes: Guy-wire ring collar, guy-wires, grounding stakes, compass for north orientation, and heavy duty canvas transportation bag.
Transportation Case:
Rugged polyethylene carrying case with roller wheels houses batteries and transceivers with quick-connect sensor plug-in jack. Foam padded interior protects sensitive equipment. Keeps all components in a constant state of readiness.
2.4 GHz Wireless Transceivers:
Gives the system remote capability within two (2) mile line-of-sight range. FCC approved and license free.
Battery Power System with Charger:
Two 12 volt sealed lead acid (SLA) gel batteries provide 32 hours of operating time each. Quick-charging battery system keeps a fresh battery in supply. Batteries come with a plastic carrying case to protect against weather elements and contaminants.
The Magellan Portable Weather Station incorporates the following sensors in a compact, rugged, metal all-in-one sensor head with a single 15-foot cable which connects to the carry case. Click to expand for specific sensor and measurement details.
Optional sensors of Solar Radiation, Photosynthetically Active Radiation, Visibility, and up to two additional Temperatures can be connected via the Weather MicroServer.
Select your desired method of data viewing and monitoring. Click a title to expand text for additional information.
FTP output (XML and CSV) • XML web service • Internet browser user interface
SNMP, Modbus/OPC and RTU communication protocols are standard for Industrial Management applications.
Compatible with CWOP (Citizen Weather Observer Program) and Weather Underground, the MicroServer can automatically post data from your weather station to these network websites.
Industrial grade WVGA touchscreen displays current weather data, trends, min/max.
Computes and displays wind chill, heat index and other calculated parameters.
Seven-inch color LCD panel with 800 x 480 pixel resolution.
Available in desktop/wall-mount chassis, 19" rack mount, or panel mount.
Weather Master™ is our proprietary software optimized for CWS weather stations. It provides computer weather monitoring, calculated parameters, graphing and trend displays, as well as automatic archiving of weather data, alarm notification, interface with CAMEO/ALOHA, and weather web page updates.
Additional software options are available including third-party software for PC and Mac.
Connection between sensor head and monitoring device.
Standard with theMagellan Portable Weather Station, 2.4 GHz wireless transceivers offer one-mile line-of-site range.
One transceiver is housed in the weatherproof carry-case near the sensor head.
The second transceiver is connected to the Interface Module at the data display site, which then is connected to a Weather Display Console and/or computer.
Certifications
2.4 GHz: FCC (USA), IC (Canada) and ETSI (Europe).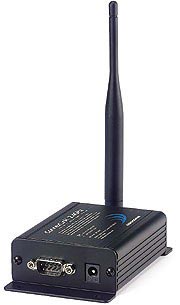 Magellan Portable Weather Station comes standard with a tripod mast and tote bag.
This tripod mast is designed to provide 8 to 10 feet of stable, secure support for your weather station sensors or other instrumentation. Set up takes less than five minutes.
Competitively priced and sturdy, the tripod is constructed from welded aluminum and anodized for appearance and longevity. The 15-pound tripod can support up to 60 pounds of equipment such as weather sensors on a 1" (outside diameter) vertical pipe stub.
Operational Features
Sturdy construction supports up to 60 pounds of equipment.
Legs insert easily into body and fasten securely with stainless steel retainer pins.
Guy wires clip quickly to feet for increased stability.
Includes tiedown kit for optional optimized stability.
Tripod Specifications
Capacity: Supports up to 60 lbs.
Diameter: 1" OD
Shipping Weight: 17lbs
Shipping Box Dimensions: 70" x 8" x 8"
Order Information
Tripod with Tiedown Kit, Catalog Number: 88019
Tripod Tote for storage and transportation, Catalog Number: 88009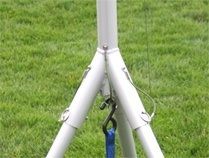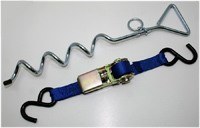 There are no additional accessories for the Magellan Portable Weather Station.
Magellan Brochure
Magellan User Manual