Price Quotes
1 888 508-7375
Email

Winter 1999
---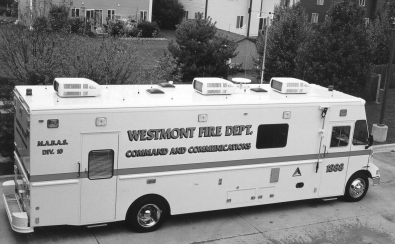 Photographs courtesy of LDV/Lynch Diversified Vehicles
Westmont Fire Department, Illinois
Monitoring the Weather is a "Professional Thing to Do"
Weather information has become increasingly important in fighting and containing fires, and especially in handling hazardous materials fires, spills and other incidents. Some fire departments install a Capricorn weather station at headquarters, while others take one on the road in their mobile command/communication center.
The Westmont (Illinois) Fire Department specified a Capricorn weather station when they ordered a new mobile command vehicle from LDV/Lynch Diversified Vehicles. "We asked LDV for an opinion on reliability and Capricorn came up. They said they had good experience with them before," noted Chief Frank Trout of Westmont.
"Capricorn is the most widely used weather station in our mobile command centers," responded Larry LaGuardia, Division Director at LDV. "It is very quick and easy to install. It is user friendly and provides the necessary information for the widest range of customers."
Weather Updates Important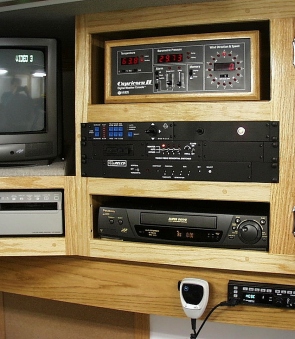 At Westmont, the communications van is shared with MABAS Division 10, a collection of 18 fire departments in the neighboring areas. "If there is a hazardous materials incident, or a fire, or EMS incident, we send our van to it and it becomes the mobile communications point," noted Chief Trout.
"When we're outside fighting fires or hazmat or whatever it may be, it's good to know wind speed and direction, temperature (Is it going up or are we going into a freeze zone?), and humidity. A lot of these things pertain to hazardous materials incidents. If we have a leaky cylinder of a toxic chemical, we can plot wind speed and direction to help us determine how fast the substance is going to blow, whether is it going to roll along the ground or dissipate into the atmosphere."
"Monitoring the weather is not so much a regulation, it's a professional thing to do," commented Chief Trout. "We have weather updates if we're on a scene and we're out there for a long period of time. For example, maybe we're doing an ice rescue, let's say a car goes into one of the lakes. When we get there it's 40 degrees. All the sudden, the wind changes out of the north, and now we have below freezing temperatures coming in with wind chill. Then we have to make other arrangements for the crews out on the scene."
Shared Responsibility
The Westmont communications vehicle is also utilized by the police dept. "We run it for them," said Fire Chief Trout. "We utilize the van to support police activities for their SWAT teams. We've been out when they've had a barricaded subject with a weapon. It's good to monitor the weather because we have people out in the elements. If there's a change in the weather or if they're going to be using any type of tear gas, they need to know wind speed and direction, and so on..."
"The third agency we support is our state emergency services and disaster agency for the Village of Westmont. We haven't had a hurricane, but we do have severe weather and the tornadoes."
Westmont has made good use of their vehicle. "We've had the van out about 23 times in the past year," said Chief Trout. "The weather station is really simple to set up. We take a collapsible tower that affixes to the side of the van. This 30-foot tower is extended, plugged into the side of the van, and it's operational. One-two-three."
---
Weather Watching
Whether routine weather or natural disaster, be prepared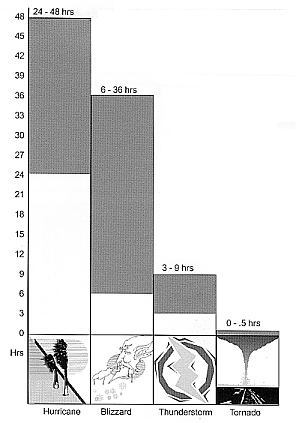 First El Niño now La Niña! The effects of these phenomena have brought heavy rains and flooding to parts of the United States, droughts to other parts of North America and other areas around the globe. It seems that every day a weather disaster occurs somewhere. Where will the next one strike?
Global Warming?! 1998 was the warmest year our planet has experienced since weather records have been kept. The decade of the 90s will likely go down as the warmest also since man began measuring temperature. Is that a signal?
It does not take a warming or cooling of the central and eastern Pacific Oceans near the equator to generate a disaster. Heavy rain and droughts seem to occur whimsically in the earth's weather patterns. Historically, we know that weather is a killer! It shows no mercy. It does not know rich from poor. It knows no racial barriers. It does not stop at state or country borders. Everyone is vulnerable.
Severe weather might strike, but not greatly affect those who are prepared. And generally there is time to prepare.
But time is not always an ally in disaster preparedness. The amount of time depends on the impending weather-related disaster. Different weather phenomena have different lead times. It is much easier to forecast the path of a hurricane a few days in advance than it is a severe thunderstorm for the next day. For tornadoes, the preparedness time may be only a matter of minutes.
What is the predominant weather feature in your area during each season of the year? What are the risks inherent in each season? Whether the risks are as common as high fire danger in the summer and icy roads in the winter or as threatening as the disasters of tornadoes and hurricanes, adequate preparation can minimize those risks and reduce the damage.
Part of preparedness is knowing where to find accurate weather information. One helpful internet site is www.weather.gov. This government site will get you anywhere in the universe.
Another aspect of preparedness is having a source of reliable local weather data.
On-site or local monitoring is important because weather conditions can vary widely over a short distance. Take the Portland metro area for instance. When we are in the "breaking up" phase of a cold spell, it can be raining toward the coast, freezing rain downtown, sleet at the airport and snowing farther east in the Columbia Gorge.
Also, with your own instrumentation, you can note trends and changes in temperature and wind - very important for short range forecasting or "nowcasting." With your wind gauge you can determine if the wind is increasing, decreasing, or changing direction. With your temperature instruments, you can see if the temperature is rising or falling. Depending on the season, each of these factors can make a difference in safety.
With the affordable technology available today, on-site weather monitoring as well as general forecast information can help your organization be prepared for any weather event.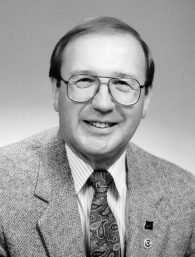 CWS welcomes George Miller, CCM, as our new Weather Watch columnist. Mr. Miller was Area Manager/Meteorologist in Charge for the National Weather Service in Portland, Oregon until 1994. He teaches classes on the weather and climate of the Pacific Northwest at Portland State University, Clackamas Community College, and Marylhurst University. For information on Mr. Miller's spring term on-line course, visit www.marylhurst.edu.
---
Weather View 32 Version 5.0
New Version offers new desktop options and faster upload
Columbia Weather is pleased to announce Weather View 32 software version 5.0 for Capricorn weather stations.
Weather View offers a user-configurable desktop for real-time viewing of sensor measurements and calculated parameters and automatically compiles a database. Drag and drop placement of objects, an alignment grid, and other features make designing a custom display intuitive and fast. Weather View includes a climatological database of over 6700 sites around the United States, so you can compare your temperature and rainfall readings to the historical record.
Alarms
Weather View's sophisticated alarm feature allows definition of high and low limits for any weather parameter, plus rate of change for outside temperature, rainfall and pressure. Once a parameter limit is violated, Weather View 32 weather station software will alert the user via audible alarm, numeric pager, alphanumeric pager and/or email message.
Graphs and Reports
One of the most useful features is Weather View's powerful and flexible graphing capability. Users can configure all sorts of graphs and up to five graphs can be uploaded to an FTP server for inclusion in your web site.
Four standard types of reports can be created including Daily Max/Min, Daily Summary, Monthly Summary, and Climatological. Weather View also has the ability automatically to send email reports of current weather data to several email addresses at specified intervals or selected times.
Your Weather on the Web
Weather View 32 makes it easy to publish your weather information on the Worldwide Web. Weather View can upload monitoring screens, graphs, and 24-hour text reports to your web site at a user-defined interval or at selected times. Visit the CWS web site to check out some of the web publishing options that we have implemented.
New Features of 5.0
An exciting new feature of version 5.0 is the ability to place information downloaded from the internet on to your real-time monitoring screen including Doppler maps, satellite images, and other data for your specified location.
A web interface improvement is that Weather View now can refresh just the data instead of uploading an entire new screen graphic at every update. This works much faster, so you can update your web site more often without tying up your computer.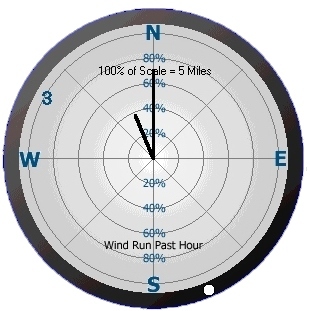 Version 5.0 also has an improved wind run dial for the monitoring screen. The new dial will display percentage of wind by direction. This feature will be particularly helpful for users dealing with hazardous materials.
Additional Options
Three options are available with added costs: Multi-Station Weather View for access of up to 50 remote stations; Net Weather 32 for computer networks; and a new broadcast option for TV and video transmission.
See for Yourself and Upgrade
Weather View 32 version 5.0 sells for $249. For previous version users, the upgrade price is $125. Mention this ReCap article when you place your order for a 10 percent discount.
[Disabled as WeatherView is no longer supported. 2023] Visit www.columbiaweather.com and click on "Current Weather" at the bottom of our home page to view some Weather View features. You can link directly to the Weather View web site from the Weather View bullet under the Weather Stations button.
---
Weather Observer Network Forms
by Robert Kleeman, Jr., AWON president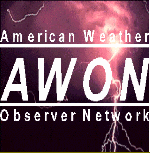 Through the 1980s and 90s, weather organizations were formed that focused on the interests of weather observers of all walks of life, whether meteorologists, climatologists or even the avid amateur weather hobbyist. Some of these organizations have come and gone.
The reasons behind these organizations expiring are many. The bottom line is, however, the leaders of these organizations began to lose focus on the primary goal to be a forum for weather enthusiasts to share their knowledge of weather and climate - to share their own observed climate data and to write about their own experiences with extreme weather related events.
Then, last year, another organization was established - one with great promise to be with us into the next century. The American Weather Observer Network (AWON) began operation as an internet site on August 23, 1998. Its sole purpose is to bring together weather observers from around the entire world to share their own observations and weather related stories that would be included on the web site.
The AWON entered 1999 with its first (very much talked about) monthly newsletter publication, entitled the American Weather Page.
The American Weather Page newsletter consists of articles on weather events from the previous month, as well as other articles of interests in the study of our atmosphere. It includes a section for the membership to submit their own observations for publication.
The AWON web site has continuously updated information on the organization and many links to other weather and climate sources that can be found on the internet. There is a separate page for weather observations submitted by AWON members.