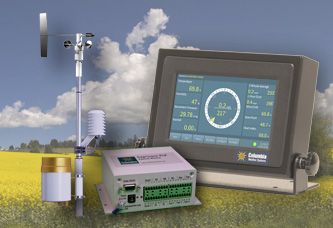 Modular Sensor Selection
Mechanical wind direction and speed
Relative humidity
Temperature (up to four total; air, soil and/or water)
Barometric pressure (internal to Control Module)
Rain gauge (tipping bucket)
Solar radiation (up to two total)
General purpose analog channels (two)
Call for a quote toll free 1-866-625-8620 or email
Features
Modular design for sensor selection and optimal sensor location
Proven, reliable mechanical wind sensors
Temperature and/or humidity in self-aspirating radiation shield
Many other meteorological sensor options
Two additional general-purpose analog channels
Low power consumption
One-year warranty
Designed around a Control Module which is housed in a compact, utility-grade enclosure. RS-232 or RS-485 communication to various monitoring options.
The Capricorn weather station, in conjunction with the MicroServer and WeatherMaster Software, are an integral part of our LEED platinum certified visitor center here at Lassen Volcanic National Park. ... Thank you for providing such outstanding customer service for a superior product." - Amanda, Lassen Volcanic National Park Visitor Center
Call for a quote toll free 1-866-625-8620 or email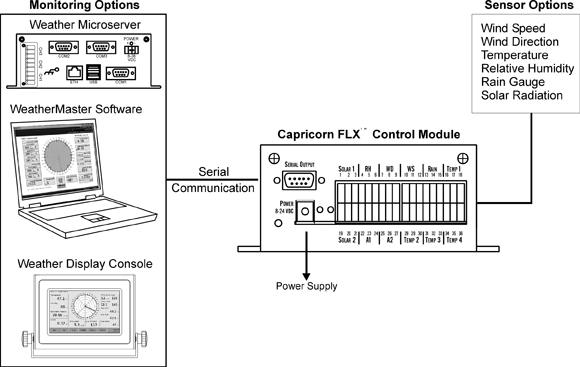 Standard Capricorn FLX includes the Control Module with internal barometric pressure sensor, wind speed and direction, temperature and humidity sensor housed in a solar radiation shield. A custom sensor package can be built using any sensor combination including up to four temperature sensors and two solar radiation sensors.
Select your desired method of data viewing and monitoring. Click a title to expand text for additional information.
Communication connection options between sensor head and monitoring device. Click heading to expand for details.
Due to the wide variety of installations, masts and mounting hardware are sold separately. The following items are available from Columbia Weather Systems. (Click to expand for details.)
The following accessories are available. Surge protection with the Lightning Arrestor is highly recommended. Click a title to expand text for additional information.
Capricorn FLX Brochure
Capricorn FLX User Manual