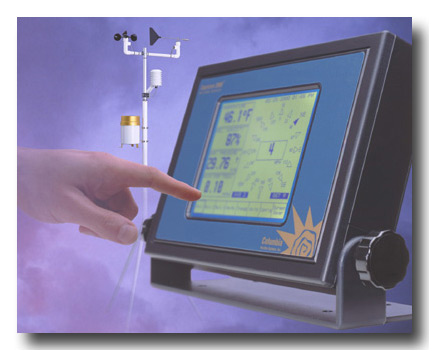 Capricorn 2000 Display Monitor
The new Capricorn 2000 Weather Display uses an "intelligent" touch screen display. With its programmable microprocessor and abundant memory, the Capricorn 2000 weather station display console can display weather information, perform complex computations and store relatively large amounts of weather data.
The new display features a graphic LCD (320 x 240 pixels) monitor with a white background and blue text. The displays are designed to be viewed clearly from a distance. Screen size is 4.8 x 3.6 inches. The text and graphics can be factory-modified to meet special market and industry needs.
Features and capabilities
. Display date and time
. Display the values of all the sensors connected to the Capricorn 2000 Control Module
. Calculate wind chill, dew point, heat index and rain rate
. Display the barometric pressure trend
. Display the rain for today, the week, the month and the year
. Display one minute wind speed average and wind speed gust
. Display min/max values and time for all the parameters for the current day and previous six days
. Display 24-hour trend graphs for all the parameters
. Display weather data in metric or English units
The display unit incorporates a screen saver that turns off the backlight to the LCD screen by the touch of a button. The backlight is turned back on by touching any part of the screen.
Available in April at a price of $1100, the Capricorn 2000 Weather Display will be offered in three formats:
1. Panel mount, (8" W x 5.4" H x 1.55" D)
2. Desktop chassis also suitable for wall mounting, (8.9" W x 6.3" H x 1.87" D)
3. 19" rack mount, (19" x 6.7")
New Humidity Sensor
Columbia Weather Systems is now offering a new thin-film capacitance relative humidity sensor. This sensor is compact and easy to use and maintain. The sensor incorporates an interchangeable sensor element, which allows field replacement in the event of failure or accuracy drift. The sensor no longer needs to be returned to the factory for calibration.
The sensor and its element are calibrated at the factory traceable to NIST.
The sensor assembly includes a self-aspirating radiation shield and a quick disconnect cable. The SARS will shelter the sensor from solar radiation and rain.
Specifications
. Size: 2.75" x 0.48" (not including the radiation shield)
. Accuracy: better than ± 3% (from 10 to 90 % RH)
. Stability: ± 2% RH over 2 years
The new sensor is priced at $295. A self-aspirating radiation shield (SARS) is highly recommended unless the probe is to be mounted in a shelter. The new RH sensor can be mounted in CWS's standard SARS (price $129). A new SARS is available for $149 which can house both the humidity sensor and one Capricorn temperature probe.